Cell Phone Scrambler
This year's college entrance examination has just ended. I want to know if there are any children who have just taken the exam. How was the exam? This year's college entrance examination time was affected by the epidemic and was postponed to one month. However, in order to ensure the information security of the inspection room, no corresponding measures have been reduced at all. The operator has issued an announcement that during the exam period, the mobile cell phone jammer will be turned on according to the requirements of the Education Bureau, which will affect the communication quality of mobile phone users around the school. Communication will not return to normal before the end of the exam. So how does the cell phone scrambler that is turned on during the college entrance examination work?
Let us first understand the working principle of mobile communication. As a mobile communication device, a mobile phone needs to establish a connection with a nearby base station when communicating, and then access the core network to find the communication destination. In the above process, all information is transmitted through electromagnetic waves. The electromagnetic wave frequency band used by the mobile phone is related to the system used by the mobile phone and the operator where it is located. But usually, it is impossible to make the 2G/3G/4G/5G base station near the examination room not work, otherwise all the communication devices in the area will not be able to communicate normally. Then the only way is for the cell phone scrambler to block the cell phone signal.
Full Bands 22 Antennas Mobile Phone 5g Jammers Wi-Fi GPS LOJACK Blockers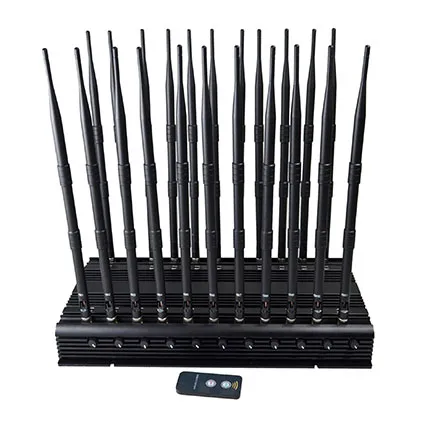 This is the latest designed with 22 Antennas all-in-one for mobile phone 5GLTE GSM 3G 4GLTE signals which bring us a strong jamming ability. And it can not only cut off all 5G 3G 4G mobile phone signals, but also jam Wi-Fi2.4G/5GHz GPS LOJACK, RF 315 MHz 433MHz , VHF UHF Walkie-Talkie & Wireless Headset/Microphone signals. Full bands jammer is Power full to blocks all the signals, Jamming frequencies the jamming radius up to 40meters